SPOILERS BEWARE IF YOU READ THIS BEFORE WATCHING THE MOVIE YOU WILL BE SPOILED AND THE MOVIE WILL KIND OF BE DESTROYED. IF YOU HAVE NOT SEEN THE MOVIE THIS IS THE "POINT OF NO RETURN"....(subtle Phantom reference)
I go to bed pretty early because--despite my young age--I am pretty much an old lady at heart. I only stay up late if something really really worth it is happening.
Last night I did stay up late (for me) because something worth while was happening.
I was watching
Inception
starring Leonardo diCaprio, Joseph Gordon-Levitt, Ellen Page, and Cillian Murphy and directed by Christopher Nolan.
If you have not seen this movie, just drop everything and go watch it now. It was so incredible.
From the very first shot, I was prepared to witness an incredible film. This may be one of the best shot movies I have ever seen. This movie is so beautiful and is chock full of beautiful lighting.
The visual effects are absolutely mind blowing.
The film opens with a gorgeous shot of the ocean, and each scene onward has a distinct aesthetic that's not too dark and washed out like many films. This film is full of color and warmth.
Suspense and mystery is created from the get-go. Leonardo diCaprio wakes up on a beach with a gun tucked behind is back. No explanation is given for this, and we immediately launch into a sequence involving Dom Cobb (Leonardo diCaprio's character) attempting to steal a thought from a man named Saito.
Rather than having the idea of stealing ideas spoon-fed to us as the audience, this film does a masterful job of showing rather than telling. Through the sequence, we learn that Dom Cobb gets into people's dreams and steals secrets from them.
What a crazy concept! It's fleshed out so well in the film and makes so much sense that it seems like something real.
Dom Cobb is remarkably good at stealing ideas, yet it has forced him to give up everything in his life, including his children. When he is given an opportunity to be rejoined to his family by Saito if he performs a task, Cobb takes on the task.
His job is to get into the mind of the son of a huge CEO and plant the idea that he should dismantle the corporation. The trick is that the son (Fischer) needs to believe that he came up with the idea and be completely unaware that Cobb gave it to him.
Cobb and his team including Arthur, Ariadne, and Eames decide to go three levels into a dream in order to most subtly plant the idea. A dream within a dream within a dream.
As Cobb and the team work on their plan for planting the idea, Ariadne learns more about Cobb's past, particularly as it pertains to his wife, Mal.
Eventually it is discovered that although Cobb says planting ideas is much harder than stealing them, he has already planted ideas in someone's mind before. He and Mal used to live in a dream world in denial of the real world, but eventually Cobb wanted to return to the real world.
He went into Mal's mind and planted the idea that her world wasn't real. Unfortunately the idea grew and spread without control and Mal began to believe that even the real world wasn't real. She eventually killed herself, under the impression that she was in a dream and when you die in a dream you wake up.
Mal constantly disrupts Cobb's mission by influencing his subconscious, and offers Cobb the decision to either stay with her in a dream land or to return to the real world without her.
Meanwhile, the mission to plant the idea in Fischer's mind is completed and he decides to break up the conglomerate.
The movie ends with Cobb being reunited with his children and to me, it seemed to be up in the air whether or not he went back to the real world or stayed behind with Mal.
WOOOOOOOOOOOOOOOOWWWWWWWWWWWW this movie was incredible.
I've heard that it was popular, but I did not expect it to be so deep and beautiful-looking. Leonard diCaprio pulled off an incredible performance, and my favorite part of his acting was when his wife committed suicide. His voice kind of cracks and squeaks at the same time in a display of raw pain.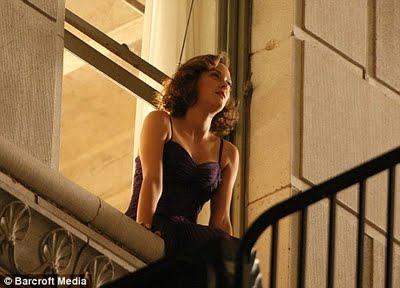 I totally recommend this movie (although I've kind of just spoiled it for you...) and I wanted to let you know that I think it is amazing.